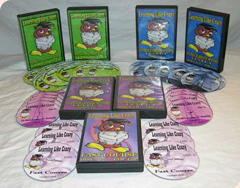 Developed by Patrick Jackson, a native Spanish speaker from Columbia, Learn Spanish Like Crazy (LSLC) is one of the top rated online Spanish courses.
It is another course that depends in the learning process upon the "linguistics" approach, where the learner acquires the language by "listening" to the spoken language used by native speakers in different daily life situations.
It's the same principle through which the young children acquire their native language, by listening to it "spoken".
The course is composed of 30 audio lessons, taking the learner from being a green Spanish beginner to an intermediate confident Spanish speaker.
Maybe the main drawback here is the time required for this to be accomplished; it needs between 2-3 months to achieve remarkable results.
On the other hand, the main advantage of LSLC in my opinion is the huge value it offers the learner through the amazing bonuses the learner receives upon purchasing "Learn Spanish like crazy".
These bonuses easily worth $500.
Here is a list of the bonuses accompanying LSLC:
1-Foreign Service Institute (FSI) Programmatic Spanish-Level 1 (15 CDs, 17 hrs of audio training material + text book & instructional manual).
This is the course developed by the US Government's Department of State over 40 years ago and used to teach CIA Agents, FBI Agents, DEA (Drug Enforcement Agency) Agents, and other U.S. Government personnel Spanish.
2-FSIPS-Level 2 (11 CDs, 13 hrs of audio training plus text book and instructional manual).
3-FSIPS Level 3+ Level 4 (Downloadable): 25 hrs of advanced Spanish audio training.
4-"Los Dichos" download: common sayings native Spanish speakers use.
5-"Los Insultos-No Vulgares" download: a nice bonus which gives the learner a background about the common "non-vulgar insults" in Spanish to recognize them in case it happens and you get any from a native Spanish Speaker.
6-"Los Insultos-Vulgares" download: these are the "vulgar" insults in Spanish, please take care this download contains vulgar expressions and not recommended for everyone.
With all of these learning material the learner receives with "Learn Spanish like crazy" course, it's most likely that he/she will be able to grasp the Spanish language with great confidence, and will be able to use it effectively and with ease.The Best part, all of these material is available as a download for less than $100.

To read a more in-depth review for the course, read this Learn Spanish Like Crazy review page, it will provide you with much detailed information you need to know if you think about buying this course.
To find more about LSLC, you can visit the course's official site directly.
If you found this review useful, help us to spread the word and recommend it by using any of the social media buttons below.